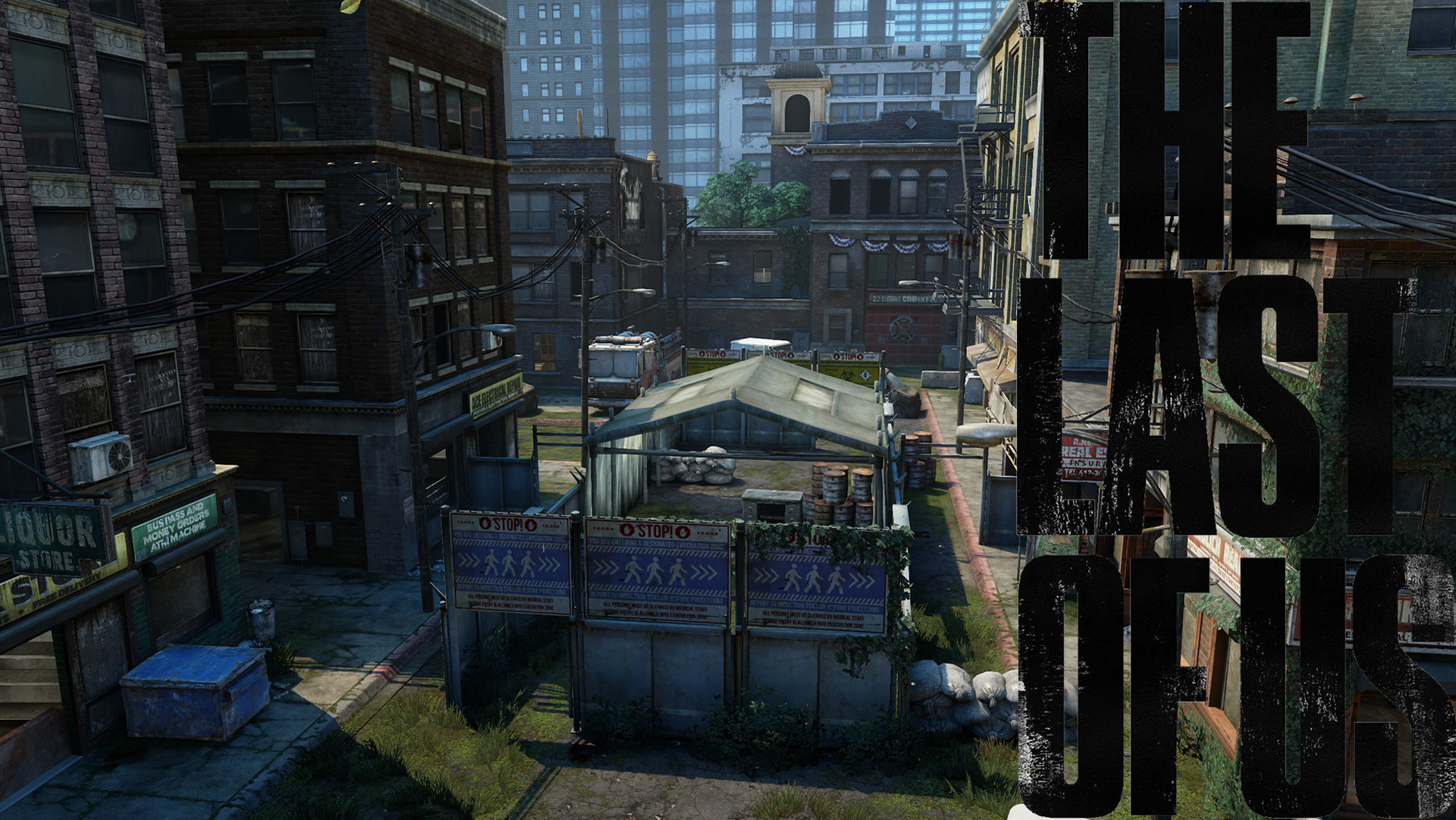 TLoU MP Base-Map | Kontrollpunkt
Zum Hauptspiel von The Last of Us, welches am 14. Juni 2013 auf der PS3 und am 29. Juli 2014 auf der PS4 als Remastered-Version erschienen ist, wurde auch der Online-Part parallel veröffentlicht. Der Multiplayer namens Fraktionen erschien von Anfang an mit 7 Hauptspiel-Karten zu folgenden Lokalitäten: Kontrollpunkt (Checkpoint), Lakeside, Bills Stadt (Bill's Town), Universität (University), Highschool, Zentrum (Downtown) und Der Damm (The dam).
Neben allen 7 Grund-Karten des Mehrspielers ist der Kontrollpunkt neben Der Damm, Bills Stadt, Highschool und Lakeside auf alle Fälle eine der beliebtesten Maps. Vor allem durch die vielen begehbaren Räume und die Stockwerk-Fenster der gegenüberliegenden Gebäude mit Blick auf das Zentrum der Karte ergeben auch für Liebhaber von Scharfschützen-Spiel ausreichend Schutz und Deckung ebenfalls wie für Liebhaber von schnellen Nahkampfsituationen in engen Gängen und Räumen.
Wie alle Maps in Fraktionen ist auch der Kontrollpunkt eine "Rundlauf"-Map, das heißt sie ist von den Naughty Dog Karten-Designern so angelegt worden, daß die Gebäude oder freie Fläche rechteckig rund um einen zentralen Punkt angeordnet wurden und durch mittig platzierte Gegenstände oder Sichtbarrieren die Weitsicht absichtlich behindert wird. Diese Anordnung beeinflusst die gewollte und beabsichtigte Schleich-und Sammel-Spielweise durch die in jeder Himmelsrichtung auftauchenden Werkzeugkisten mit Bastel-Utensilien die Teams sehr oft dahingehend bewegt werden sich gegenseitig erst mal schleichend aus dem Weg zu gehen bis man ein paar Zusatzwaffen wie Molotow-Cocktails, Rauch- und Nagelbomben oder den Nahkampfstock gecraftet hat.
Das Single-Player-Pendant der Map

Es gibt keine adäquate Stelle im Spiel auf welche die Map Kontrollpunkt hinweist/aufbaut.
Der Kontrollpunkt ist eine Map die starke Ähnlichkeit im Hinblick auf seinen Grundriss mit der Map Finanzplatz hat. Jedoch ist der Finanzplatz etwas detaillierter und stimmungsvoller gestaltet. Dafür bietet der Kontrollpunkt durch seine Begehbarkeit der Gebäude auf mehreren Ebenen viel Raum für Hinterhalte und Überfallspiele. 2 Werkzeugkisten sind im Freien und 2 Werkzeugkisten in Gebäuden angebracht.
Die Map gibt vor allem im Modus Vorratsraubzug dem letzten Mann die Möglichkeit sich beim Sudden Death gut zu verstecken und einzuigeln, bestimmte Engpässe mit Nagelbomben zu blockieren und sich notfalls bis zum Sieg oder Ablauf der Zeit am Leben zu halten. Es gibt sogar Gamer, die in dieser Karte eine Spielwende herbeiführen können und ein völlig aussichtsloses Spiel noch zu ihrem Vorteil gestalten können durch taktisches Verteidigungsspiel. Kaum eine andere Map bietet diese Vielfalt an verschiedenen Gameplay wie der Kontrollpunkt.
Was hältst du von dieser Map? Melde dich an und schreibe deine Meinung und Kommentar zum Kontrollpunkt.
Alle 17 Maps auf einen B(k)lick:
HAUPTSPIEL
» Kontrollpunkt
» Lakeside
» Bills Stadt
» Universität
» Highschool
» Zentrum
» Der Damm
DLC: Verlassene Gebiete
» Vorstadt
» Busdepot
» Heimatstadt
» Buchhandlung
DLC: Zurückgewonnene Gebiete
» Werft
» Rathaus
» Kohlemine
» Wasserturm
DLC: Tückische Gebiete
» Finanzplatz
» Strand
Es tut uns leid, dass der Beitrag für dich nicht hilfreich war!
Lasse uns diesen Beitrag verbessern!
Wie können wir diesen Beitrag verbessern?