U4 Multiplayer | Nadine Ross Powertalk
Eine der wohl bereicherndsten Elemente im Uncharted 4: A Thief's End Multiplayer sind die Sprüche, welche die Charaktere beim aktiven Gameplay von sich geben. Sie sorgen nicht selten für Lächler und spornen den Mehrspieler an noch mehr aus seinem Gameplay herauszuholen. Wir sammeln hier alle vorkommenden Sprüche aller im Mehrspieler vorkommenden Avatare.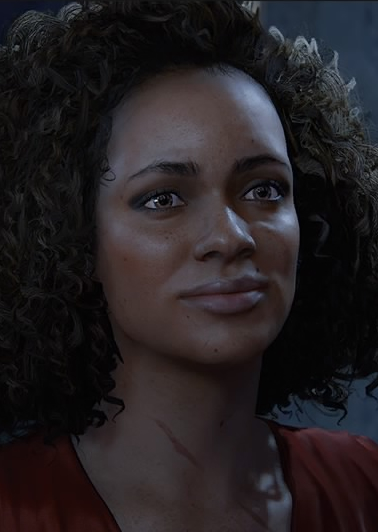 VITA
Nadine Ross leitet Shoreline, eine kleine aber sehr effektive paramilitärische Organisation in Südafrika. Als Meisterin verschiedener Kampfkünste und Meisterschützin stellt sie eine ernstzunehmende Gegnerin dar. Sachliches Auftreten hat ihr die grenzenlose Loyalität ihrer Männer eingebracht. Man bleibt besser ausser Reichweite, wenn sie in der Nähe ist.
SPRÜCHESAMMLUNG
NADINE ROSS
CHARAKTERWAHL-ABHÄNGIGE SPRÜCHE
"Ich erwarte eine Partnerschaft."
"Laß uns profesionell bleiben."
"Ich komm schon klar. Ich mach mir eher Sorgen um dich."
"Du weißt offensichtlich was du willst."
"Das heißt aber nicht, daß wir Freunde sind. Klar?"
"Das ist ihr Begräbnis."
"Das hat lang genug gedauert."
"Ich bin vorsichtig optimistisch."
"Ich hab schon viel erlebt Kumpel. Und du?"
"Eye of the tiger und so."
CHARAKTERUNABHÄNGIGE SPRÜCHE
"Die Figur gehört uns."
"Die haben sich eine Figur gesichert."
STANDARDSPRÜCHE
"Und weg!"
NUR NADINE
"Ich brauche wohl noch einen Versuch."
"Gut. Wo ist mein nächstes Ziel?"
"Ich hab noch eine Rechnung offen."
"Zuversicht ist gut, Können ist besser."
"Jeder, der von der Mission abweicht, wird es bereuen."
"Ich wurde von den Besten ausgebildet."
"Vermissen werd ich dich nicht."
"Hör ich noch ein Danke, oder was!"
"Oooh, das wird ihm nicht gefallen."
"Einer weniger."
"Den hab ich!"
"Ich leite kein privates Militärunternehmen, weil ich nett bin."
MARTIALISCHE SPRÜCHE
…
DAS LETZTE WORT
"Ein paar Stolpersteine hier und da, aber nichts Problematisches. Gute Arbeit!"
"Oooh … ein paar von denen wollten sich echt wehren. Ihr bekommt jetzt alle eine hübsche Gehaltserhöhung."
"Oooh Mann, ist es noch zu spät die Seiten zu wechseln?"
"Wer weiterhin so verlieren möchte, der soll sich keinen Zwang antun. Ich hingegen suche mir eine neue Armee, verdammt."
"Ich frage mich jetzt wieviele von diesen Losern lautlos in ihr Kissen heulen."
"Unterschätzt mich nicht. Dadurch wird der Sieg umso schöner."
"So eine knappe Niederlage erinnert einen daran, daß man zuverlässige Leute braucht."
"Ich bin es nicht gewohnt zu verlieren, und ich will es auch nicht sein. Werdet besser!"
Hat bei dir Nadine einen neuen Spruch geklopft oder hast du hier Ungereimtheiten entdeckt?
Dann poste unten im Kommentarfeld deinen Beitrag, Richtigstellungen oder Meinungen.
Und was sagen die anderen Schurken dazu?
Es tut uns leid, dass der Beitrag für dich nicht hilfreich war!
Lasse uns diesen Beitrag verbessern!
Wie können wir diesen Beitrag verbessern?