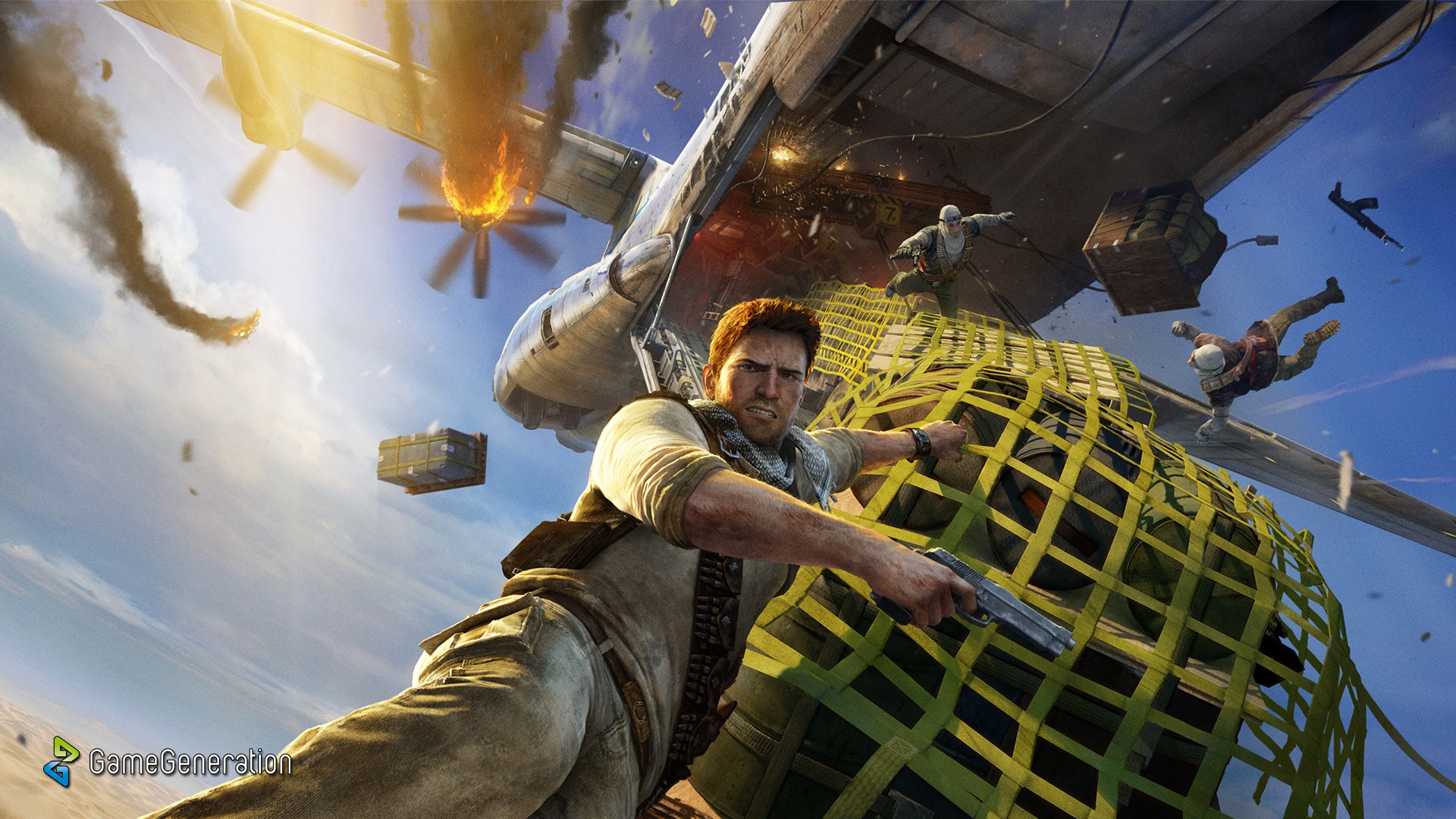 3rd-Person-Shooter
,
Action-Adventure
,
Game(r)-News
,
Naughty Dog
,
PS3
,
PS3 | Uncharted
,
PS3 | Uncharted 3: Drake's Deception
,
PS4 | Uncharted
,
Review
,
Social Media
,
Uncharted: The Nathan Drake Collection
,
Video
Nathans U3-Stuntvorlage für M:I 5 – Rogue Nation
Kürzlich twitterte M:I 5-Regisseur Christopher McQuarrie auf eine Fanfrage nach der Entstehung ihrer Flugzeugstunt-Szene von Tom Cruise er hätte sich von einer Uncharted-Szene inspirieren lassen.
Im kurzen Featurette und kleinen Making Of zu dieser Szene wird uns gezeigt wie Ethan Hunt an der Seitentür eines startenden Flugzeugs hängt und sich gegen die starke Windströmung behaupten muss. Daß hier nicht im Studio vor Bluescreens getrickst wurde, sondern Tom Cruise tatsächlich in real diesen Stunt alleine durchsteht, ist ohne Zweifel eine starke Mutprobe und Stuntleistung.
Trotzdem kommt dieser Stunt auch nicht im Geringsten an die Heldenhaftigkeit unseres Uncharted-Stars Nathan Drake heran. Logisch, daß die wohl beste geskriptete Action-Szene aus dem PS3-Universum nicht 1:1 umgesetzt werden kann und Polygone mehr aushalten als echtes Menschengeschlecht, doch die zwei Szenen unterscheiden sich dennoch total voneinander.
Während Ethan "lediglich" an der Seite eines Frachtfliegers hängt, gelangt Nathan über die einfahrenden vorderen Stützräder ins Flugzeuginnere. Daß bei Uncharted 3 auf dem PC besser gemoggelt werden kann, zeigt uns allein die Blickwinkel-Einstellung aus welcher Elena mit einem Jeep unter das Cargo-Flugzeug fährt und Nate an die vorderen Räder bringt. Das ist völlig unmöglich und hätte ohnehin in Wirklichkeit nie gedreht werden können, wegen der fehlenden Höhe. Doch was Nathan Drakes Stunt im Spiel ausmacht ist ja nicht wie er ins Flugzeug gelangt, sondern wie er den Beinahe-Rauswurf an der Hecktür des abgehobenen Metallvogels überlebt.
Außerdem gibt es in der Filmstunt- und Action-Szene beeindruckendere mutige und lebensgefährlichere Stunts als den von Tom Cruise, die eher an das Gameplay von Uncharted 3 heranreichen würden als diese bei M:I 5 der Fall ist. Zu benennen wären hier auf alle Fälle schon mal die Flugzeug-Szene aus Furious 7.
Wie man im Making Of sieht, springen hier echte Stuntspringer mit Helmkameras vor den Fahrzeugen aus dem Frachtflieger und das ist extrem gefährlich und kann alle mal eher mit Nathans unfreiwilligen Abflug verglichen werden als die Stuntleistung von Tom Cruise an der hängenden Flugzeugtür.
Dennoch ist die Würdigung von Justin Richmonds Arbeit, damaliger Director von Uncharted 3, zu erwähnen, denn seltener werden Action-Szenen aus Spielen ins Movie-Universum exportiert als umgekehrt, somit ist nochmal zusätzlich bewiesen wie gut und großartig diese Flugzeug-Szenerie von Nathan Drake erdacht, verarbeitet und auf eine Spiele-Disc gebrannt wurde und daß wir Zocker von Uncharted 3 eines der größten Spiele spielen durften, die es gibt.
Noch besser ist natürlich, daß wir mitunter auch diese Szene in demnächst erscheinenden HD-Remake Uncharted: The Nathan Drake Collection auf der PS4 im noch besseren Look durchspielen dürfen. Danke Sony, Naughty Dog und Bluepoint Games für diese Verwöhnung eurer Player. 😉
Es tut uns leid, dass der Beitrag für dich nicht hilfreich war!
Lasse uns diesen Beitrag verbessern!
Wie können wir diesen Beitrag verbessern?